Home / Telephone Customer Service
Telephone Customer Service
This item is only available for Canadian orders.
This title is a part of the series
Customer Service Essentials Series
Guide Available:
394349.pdf
We've all experienced it - the frustration of dealing with a company or organization over the telephone. Being put on hold or transferred again and again, often without finding an answer or solution, is enough to drive anyone crazy. Now, switch places - imagine you're being paid to help customers by phone. What can you do to ease their aggravation, address their queries, and solve their problems? If a conflict emerges, how will you untangle it without the benefit of face-to-face interaction? This video provides answers to those questions, guiding trainees with simple dramatizations, concise explanations, and hip animation. Offering an overview of the basic components of a telephone support system, the video emphasizes the importance of active listening, documentation, and multitasking, while helping viewers recognize the communication barriers inherent in telephone technology.
Related Titles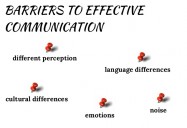 Barriers to Communication and How to Overcome Them
A closed door, an exasperated expression, a noisy workstation, a cultural misunderstanding - all of these are examples of "noise," a general term for anything...
View This Title
Films Media Group
394613