Home / Online Customer Service
Online Customer Service
This item is only available for Canadian orders.
This title is a part of the series
Customer Service Essentials Series
Please install the latest version of Adobe Flash Player to view this content!

Request Preview Access

Catalogue Number: 394350
Producer: Films Media Group
Subject: Business Studies, Career Education
Language: English
Grade Level: 9 - Adult
Country of Origin: U.S.
Copyright Year: 2012
Running Time: 20



Guide Available:
394350.pdf
Helping people via the Internet might sound easy, but in fact, many customers expect more from a digital interface than they do from in-person or telephone venues. And because folks can take their business elsewhere with one swift click or keystroke, competition for online customers is fierce; anyone tasked with keeping them happy is on the front line of a company's battle to succeed. Using eye-catching animation, down-to-earth explanations, and illustrative chat excerpts, this video presents the best ways to assist customers who sign in rather than stroll in. Topics include the basic parameters, functions, and fine points of live chat, which enables a trainee become the "voice" of his or her company; the ways in which social media platforms like Facebook and Twitter can play a role in effective customer service; the importance of e-mail etiquette; and the methods by which a service representative should deal with online behavior that becomes upsetting or offensive.
Related Titles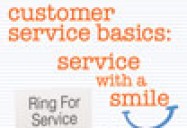 Customer Service Basics: Service with a Smile
In this humorous video that is reminiscent of "The Office", join the employees of the fictitious Lucky Star Coffee Company as they learn about customer...
View This Title
Learning ZoneXpress
430149