Home / Aquarium 1 - Aquateam Series (Episode 13)
Aquarium 1 - Aquateam Series (Episode 13)
This title is a part of the series
Aquateam Series
Please install the latest version of Adobe Flash Player to view this content!

Request Preview Access

Catalogue Number: AR070EDV
Producer: Arcadia Entertainment Inc.
Subject: Archaeology, Geography, Science, Travel
Language: ENGLISH
Grade Level: 5 - 9
Country of Origin: Canada
Copyright Year: 2009
Running Time: 52




Aquateam is island hopping in the Southern Caribbean. They explore the depths by submarine, witness a life - and - death struggle for survival and get swarmed by stingrays!
Related Titles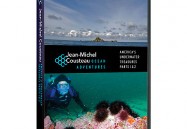 Ocean Adventures with Jean Michel Cousteau (5 Pack DVD)
The Ocean Adventures Pack includes: Return to the Amazon - The Amazon, the most powerful of the world's rivers. It flows through the largest tropical...
View This Title
PBS Video
040789DV