Home / Overview Of The War of 1812 (Canada AM)
Overview Of The War of 1812 (Canada AM)
Please install the latest version of Adobe Flash Player to view this content!

Request Preview Access

Catalogue Number: CTV555DV
Producer: CTV
Subject: Canadian History, Canadian Social Studies, History, World History
Language: ENGLISH
Grade Level: 7 - Post Secondary
Country of Origin: Canada
Copyright Year: 2012
Running Time: 30




200 years ago on June 18th, 1812, President James Madison and the United States Congress declared war on Great Britain. Battles raged throughout the continent for over two years before peace was negotiated. To mark this bicentennial, CTV's Canada AM spent the day at historic Fort George in Niagara-on-the-Lake. The various segments will give students a brief overview of the life and times of officers; the role of First Nations people; the role of Laura Secord; and the importance of the War of 1812 in Canada's history.

Segments include:
Introduction
The Importance of the War of 1812
Role of First Nations in 1812
Laura Secord's role in 1812
Food for officers at Fort George
Fashion during the War of 1812
Related Titles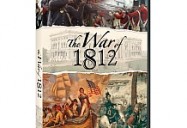 The War of 1812
For two and a half years, Americans fought against the British, Canadian colonists, and native nations. In the years to come, the War of 1812 would be...
View This Title
PBS Video
041425DV