Home / Black History: Role and History of the Black Community in Canada
Black History: Role and History of the Black Community in Canada
A panel of Black leaders discuss the role and history of the black community in Canada. The panel includes Don Meredith, Conservative Party of Canada; Michael "Pinball" Clemons, Vice Chair, Toronto Argonauts; Kwesi Johnson, Youth Outreach Worker; and Delvina Bernard, Executive Director, Council on African Canadian Education. The introductory segment takes a brief look at the history of blacks in Canada with reference to Mathieu de Costa, the first recorded black person in Canada and the story of Viola Desmond of Nova Scotia who was one of the first to raise awareness about the reality of Canadian segregation.
Related Titles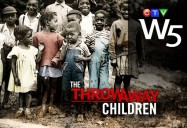 The Throwaway Children: W5
Victor Malarek investigates horrific stories of abuse and terror at a residential home that was supposed to protect vulnerable children. "THE THROWAWAY...
View This Title
CTV
CTV565