Home / The Attitude and Behaviour Series
The Attitude and Behaviour Series
This item is only available for Canadian orders.
Please install the latest version of Adobe Flash Player to view this content!

Request Preview Access

Catalogue Number: PSP025
Producer: PowerSplash Project
Subject: Business Studies, Career Education
Language: English
Grade Level: 11 - Adult
Country of Origin: U.S.
Copyright Year: 2012




This DVD includes two programs:

Program One:

Right Attitude, Right Results

• Learn what comprises a successful business structure

• Learn what comprises the human structure

• Learn how to change negative behaviour

People are the greatest asset of any company. So what happens when a talented person is hired but soon find their attitude is in need of refining and improvement? This extensive program explores attitudes, mindsets, belief systems, and how managers can influence and change negative behaviours. (28 Minutes)

Program Two:

Rid the Habit of Worrying

• Learn how to challenge and verify your thoughts and beliefs

• Learn how to break the habit of worrying

• Learn how to handle what others think of you

Worry is a conditioned way of thinking. It consumes precious energy and is the easiest way to ensure unhappiness in the present moment. Perhaps what is needed is an understanding of why worry is a habit and how we can break it. Much negativity stems from the need to be in control - and many things in life just happen! One of the most common worries at work is what others think of you. This thoughtful program will motivate one to think logically as well as challenge thoughts and beliefs. (12 Minutes)
Related Titles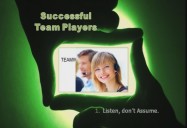 Attitude and Behaviour (Vol. 1): The Employee Awareness Series
ESSENTIAL TO THE TEAM It's one thing to call a group of individuals a team. It's another thing for that group of individuals to actually act like a team...
View This Title
PowerSplash Project
PSP019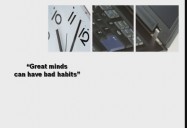 Time and Stress Management (Vol. 4): The Employee Awareness Series
MANAGING OURSELVES IN A TIMELY MANNER Time management is a myth. There are 24 hours in a day. We cannot manage time. However, by learning to avoid...
View This Title
PowerSplash Project
PSP022