Home / Great Museums (7 DVD Set)
Great Museums (7 DVD Set)

This item is only available for Canadian orders.
Celebrate the world of museums with this award-winning series that opens the doors of the museum world to millions of viewers and discover why fact is even more fascinating than fiction! Go behind the scenes to a museum vault, an art restoration lab, or an archaeological dig with our stars—the museum curators, scientists, historians, collectors and conservators who make our museums living places. Over 15,000 museums in the United States offer thousands of different experiences and display millions of objects from around the world. Examine the intricate brush strokes of a Van Gogh painting. Stand chest to chest with George Washington's uniform. Touch a moon rock. Experience zero gravity in a space flight simulator. All of this is possible in the Museum World!
---
Related Titles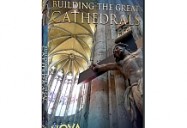 NOVA: Building the Great Cathedrals
PBS Video
041302
Carved from a hundred million pounds of stone, soaring effortlessly atop a spider web of masonry,...