Home / Day of Days: June 6, 1944: American Soldiers Remember D-Day
Day of Days: June 6, 1944: American Soldiers Remember D-Day

This item is only available for Canadian orders.
Catalogue Number:
041718
Producer:
PBS Video
Subject:
History
,
Social Studies
,
World History
Language:
English
Grade Level:
9 - 12, Post Secondary
Country Of Origin:
U.S.
Copyright Year
: 2014
Running Time:
60
Closed Captions:
Yes
Day of Days: June 6, 1944 commemorates the 70th anniversary of the Normandy landing by bringing together American D-Day veterans to share their experiences from that fateful day, with their testimony yielding long-buried and often painful, vivid memories. They recount their transformations from boys to men, reveal their uneasiness with the term "hero," and grapple with why they survived when so many others did not.
---
Related Titles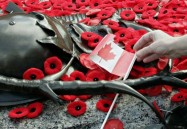 Voices Of Courage
CTV
CTV485
VOICES OF COURAGE, a CTV Remembrance Day special featuring four veterans and their personal...
NOVA: D-Day's Sunken Secrets
PBS Video
041719
On June 6, 1944, the Allies launched the biggest armada in history to invade the Normandy beaches...