Home / Healthy Touch, Good Boundaries, Safe Kids
Healthy Touch, Good Boundaries, Safe Kids

This item is only available for Canadian orders.
Children learn Stop, Drop and Roll to protect themselves from fire, but are they learning No, Go and Tell as a response to unwanted touch?
StarShine Workshop's Healthy Touch, Good Boundaries, Safe Kids is designed to teach kids about safe boundaries and what to do when they are are in uncomfortable situations. The DVD begins with a 15- minute program for children, teaching them the "No, Go, Tell" approach to unhealthy touch or potentially unsafe situations. It provides examples of good (healthy) touch and wrong touch, defines private areas of your body (the parts covered by your bathing suit), demonstrates the three circles of comfort (strangers, helpers - people we have met- and family and friends), and differentiates between good secrets and bad secrets. "It's not your fault" is stressed for anyone who has experienced sexual molestation.
The second part is a 15-minute information video for parents and educators, with advice on how use the video in schools, how to respond effectively to children who report abuse, and how to recognize physical and behavioral signs of child sexual abuse. Three short dramatized situational segments are included in the DVD, one at the beginning, one between the two programs, and one at the end.
Some Canadian facts:
In 82% of sexual assaults the victim knows the perpetrator. (Statistics Canada (2010). The Nature of Sexual Offences)
1 in 3 girls and 1 in 6 boys experience an unwanted sexual act. (Child Sexual Abuse: The Canadian Badgley Royal Commission, Report on Sexual Offences Against Children and Youths), 1984. (pg. 175)
Includes teacher's guide, tips for parents, and parent letter/permission form on DVD.
GUIDE



Supersize captions, unusual color combinations, and other visuals grab viewer attention in this cautionary program to help youngsters identify and distinguish healthy and appropriate touch from wrong, inappropriate touch. Children finding themselves in uncomfortable situations or their personal boundaries violated are advised to say no, go away, and tell a responsible adult ("no, go, tell"). Three unsafe scenarios that put the advice in motion are introduced. Follow-ups show an adult taking appropriate action, which sometimes involves calling the police. Basic information is reinforced in captions, and unfamiliar vocabulary is explained. The last part of the program, aimed at parents and educators, features a social worker and a physician stressing the importance of listening carefully to children. It is also noted that most abuse cases involve a familiar and trusted adult in the child's life. Realistic situations and excellent explanations, devoid of scare tactics, characterize this helpful video.
— Nancy McCray (Booklist)
---
Related Titles
You Are In Charge Of Your Body
Human Relations Media
600622
You Are In Charge of Your Body is an age-appropriate, comprehensive curriculum (video and print)...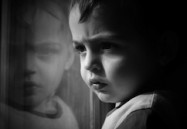 When Boundaries are Crossed: Child Abuse Prevention Series
Learning Seed
200306
Whether you counsel at-risk parents, teach parents-to-be, or direct mainstream caregivers, these...