Home / Bolivia: Partners, Not Masters
Bolivia: Partners, Not Masters

This item is only available for Canadian orders.
This title is a part of the series
Fighting the Tide 2: Struggles Over Resources in the Developing World
Swept to power in 2006 on a wave of social unrest, Bolivian President Evo Morales has vowed to shift the balance of power in favor of his poorest constituents. This program examines the wealth generated from Bolivia's natural resources, precious metals in particular, and highlights Morales' efforts to redirect revenues away from what he sees as neoliberal interests. Noting Morales' indigenous heritage, the film explores the meanings behind his motto "Partners not Masters" and his views on the influence of multinational corporations. It also reveals an ongoing struggle for equality among laborers at the Potos­ silver mine, where male workers often die young, leaving widows and children to subsist in refuse.

Portions in Spanish with English subtitles.
---
Related Titles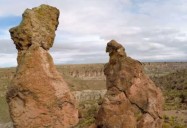 Bolivia: Undiscovered Vistas Series
Blue Ant Media
BAM303
Beneath the blazing Bolivian sun lies a land of extremes, ranging from desolate highland plateaus...