Home / Pardon My Postpartum: The Depression You're Not Supposed to Have
Pardon My Postpartum: The Depression You're Not Supposed to Have

This item is only available for Canadian orders.
Catalogue Number:
394040
ISBN Number:
978-1-61733-512-9
Producer:
Films Media Group
Subject:
Health and Medicine
Language:
English
Grade Level:
Post Secondary, Adult
Country Of Origin:
U.S.
Copyright Year
: 2010
Running Time:
48
With an edgy visual style that reflects the emotional roller-coaster many new mothers experience, this program transcends misconceptions about postpartum depression and the initial months of parenthood. Viewers gain insight into a condition that frequently affects mothers with no prior history of mental or mood disorder issues, and who are often left isolated, misunderstood, and untreated. In candid interviews as well as dramatized blog entries, women and men from around the world speak out with rage, uncertainty, and even levity on sleep deprivation, the difficulties of breast feeding, medication challenges, and more. Expert commentators include Dr. Lori Ross, a research scientist at the University of Toronto-affiliated Women's College Hospital Research Institute, and Karen Liberman, executive director of the Mood Disorders Association of Ontario.
---
Related Titles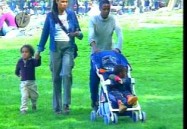 The Mommy Mystique: The Anxiety of Modern Motherhood
Films Media Group
393633
Featuring an interview with acclaimed author and cultural observer Judith Warner, this ABC News...