Home / Confronting Drug and Alcohol Abuse
Confronting Drug and Alcohol Abuse

This item is only available for Canadian orders.
This title is a part of the series
What Would You Do? Series 2: Instinctive Reactions and What They Reveal
Catalogue Number:
394130
ISBN Number:
978-1-62102-021-9
Producer:
Films Media Group
Subject:
Psychology
Language:
English
Grade Level:
9 - 12, Post Secondary
Country Of Origin:
U.S.
Copyright Year
: 2011
Running Time:
56
A young woman uses the restroom at a busy restaurant. While she's away, her date cracks open a small capsule and spikes her drink with white powder. Onlookers are aghast-but do any of them take action? Truth be told, the young man and woman are actors in a hidden-camera scenario created to find out how unsuspecting observers will react. Other provocative set-ups featured in this compilation of ABC News segments: a bar customer attempting to take home a seemingly drunk woman he has just met; an apparently tipsy woman trying to persuade sober passersby to breathe into her car's breathalyzer so she can run an errand; and two different alcohol-drenched hazing sessions involving male, then female, initiates. Each segment gives viewers the chance to ask: What would you do?
---
Related Titles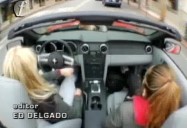 Standing Up as a Citizen
Films Media Group
393502
Spark class discussion on civic responsibility with this compilation of ABC News segments. Each...