Home / Customer Service Essentials Series
Customer Service Essentials Series

This item is only available for Canadian orders.
Whether it happens in person, by telephone, or online, good customer service is vital. In fact, it's just as important as advertising or product quality in building a company's reputation and it can decide, ultimately, whether or not that company will survive. This three-part series illustrates best practices for delivering effective customer service, focusing on what an individual employee can and should do to improve his or her attitudes and behavior toward the customer. Each episode features dramatizations that help to illustrate real-world lessons, while easy-to-read text summaries follow each segment, enabling viewers to further consider and discuss concepts.
A Films for the Humanities & Sciences Production. 3-part series, 20 minutes each.
---
Related Titles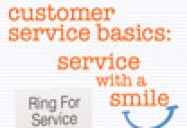 Customer Service Basics: Service with a Smile
Learning ZoneXpress
430149
In this humorous video that is reminiscent of "The Office", join the employees of the fictitious...