Home / Person - to - Person Customer Service
Person - to - Person Customer Service

This item is only available for Canadian orders.
This title is a part of the series
Customer Service Essentials Series
One shopper wants a price quote, another needs something that's shelved too high. Two more customers are waiting for items from storage, and there's a huge line forming at the front counter. It's another crazy day in customer service—a department that can make or break a brick-and-mortar business. Whether you're working the sales floor, waiting tables, or running a cash register, you've got to emphasize the "service" in customer service, thereby ensuring a loyal and ever-expanding base of patrons. This video shows employees how to achieve that goal, using lively animation, no-nonsense explanations, and clear, entertaining dramatizations. Topics include creating a good first impression, developing a professional and outgoing attitude, following customer service procedures in a logical manner, and handling conflict calmly, confidentially, and respectfully.
GUIDE



---
Related Titles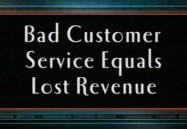 Commendable Customer Service
Films Media Group
700576
Everyone talks about "customer service." What is it, and why is it so important? As the frontline...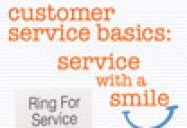 Customer Service Basics: Service with a Smile
Learning ZoneXpress
430149
In this humorous video that is reminiscent of "The Office", join the employees of the fictitious...