Home / A Heat Pump That Won't Cool: Heat Pump Troubleshooting
A Heat Pump That Won't Cool: Heat Pump Troubleshooting

This item is only available for Canadian orders.
This title is a part of the series
Heat Pump Troubleshooting
Catalogue Number:
394436
Producer:
Films Media Group
Subject:
Tech/Voc
Language:
English
Grade Level:
9 - 12, Post Secondary
Country Of Origin:
United States
Copyright Year
: 2012
Running Time:
28
When a split system heat pump won't put out cool air, there may be several different reasons why. What will it take to find and fix the problem? Presented by Jim Johnson, an experienced trainer and HVAC/R electrical system repair expert, this video helps develop the troubleshooting know-how crucial to the job. A viewable/printable resource guide is available online and featured in the program to demonstrate the use of wiring diagrams. By following along with Jim as he performs the necessary diagram reading, viewers are able to identify all relevant components of the unit and isolate the malfunctioning part. A major part of this diagram-reading experience is establishing that the compressor is internally protected and that the diagram shows a single pole contact. In a detailed hands-on demo sequence, trainees learn how to use state-of-the-art tools and test equipment, including a digital multimeter for determining microfarad rating in run capacitors.
---
Related Titles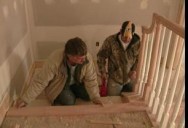 Mechanicals: Rough-in and Final
Films Media Group
700563
Heating, ventilation, and air conditioning (HVAC) comprise one of the major systems to be installed...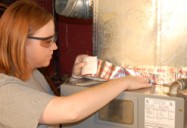 Residential Air Conditioning: HVAC Series
Films Media Group
010793
Students aiming for a career in air conditioning repair and technology will encounter all the...