Home / Quirky Science Series
Quirky Science Series

This item is only available for Canadian orders.
Catalogue Number:
394446
Producer:
Films Media Group
Subject:
History
,
Science
Language:
English
Grade Level:
6 - 8, 9 - 12
Country Of Origin:
U.S.
Copyright Year
: 2011
For most, science is about discoveries by Ph.D.s in lab coats. But do we ever think or imagine that to get to where we are today, science must have occasionally taken some very quirky directions? This 13-part series explores just exactly where science went awry and led to new discoveries and inventions. Each episode shows viewers that even though some past moments in science may seem crazy to us today, they made perfect sense at the time - and vice versa! It also shows how these moments led either to a breakthrough in understanding or to a new product, which ultimately turned out to be something we enjoy and perhaps take for granted today.
13-part series, 25 minutes each.
---
Related Titles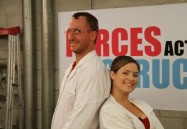 Plankton and Tube's Amazing Science Adventures Series
McIntyre Media Inc.
MCI045
A brand new Canadian-produced series for the elementary science curriculum. Your two hosts, the...