Home / Cool: Quirky Science
Cool: Quirky Science

This item is only available for Canadian orders.
This title is a part of the series
Quirky Science Series
Catalogue Number:
394448
Producer:
Films Media Group
Subject:
History
,
Science
Language:
English
Grade Level:
6 - 8, 9 - 12
Country Of Origin:
U.S.
Copyright Year
: 2011
Running Time:
25
Cooling is more than a luxury - nowadays it's a necessity. Without refrigerated shipping and stocking, fresh food wouldn't reach our supermarkets so easily. Can you imagine living without it? Air-conditioning, on the other hand, was invented as a means to control the humidity that was ruining the paper of printing offices, rather than as the technology we now use to cool off. This program discovers that you can't create cold; you can only "move" temperature from one place to another. Learn how early refrigeration units used all sorts of chemicals that were harmful to the environment—and how new technology may provide a solution: cooling via the vibrations of sound. That does sound cool.
---
Related Titles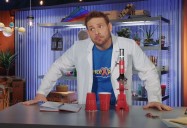 ScienceXplosion - Series 3
GAPC Productions
GAP776
Includes the following Eight segments: Solid as a Liquid (states of matter) - Eric discovers that...