Home / Chilean Mine Rescue: The Unstoppable Team - A Case Study in Group Decision Making
Chilean Mine Rescue: The Unstoppable Team - A Case Study in Group Decision Making

This item is only available for Canadian orders.
Although most corporate managers don't have to wrestle with life-or-death decisions, the key to a company's success lies in the same kind of teamwork and problem-solving that enabled the rescue of 33 trapped Chilean miners in 2010. This video uses that inherently dramatic event to outline and explain several core principles of effective management, communication, and team-building. Viewers learn the importance of clearly defining a common goal and rallying people around it by creating a vivid connection to a larger purpose; effectively reinforcing and articulating the vision to keep a team united and inspired; identifying and leveraging the skills and capabilities of team members; forging partnerships and alliances to expand capabilities; and staying open to new ideas, emerging leaders, and alternative solutions.
GUIDE



---
Related Titles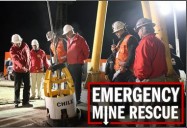 NOVA: Emergency Mine Rescue
PBS Video
041315
With special access to the site of the San José, Chile, mine, the mining engineers and the miners'...