Home / Suited
Suited

This item is only available for Canadian orders.
From producers Lena Dunham and Jenni Konner (HBO's Girls), Suited tells the story of Bindle & Keep, a Brooklyn tailoring company that looks beyond the gender binary, creating custom-made suits for gender non-conforming and transgender clients. Clothier duo Rae Tutera and Daniel Friedman take a holistic approach to their work, considering each client's personal narrative, which becomes inextricable from the creation of the perfect suit. Among those who share their unique stories are a transgender man preparing for his wedding, a New York City cab driver looking to feel comfortable for a big birthday, a young law student struggling through job interviews, and a 12-year-old trans boy whose bravery is only rivaled by his nervousness about looking good for his upcoming Bar Mitzvah. A modern, evolved look at gender through the conduit of clothing, this illuminating documentary elucidates the private and emotional experience that those who struggle with gender identity go through when it comes to fashion. With heart and optimism, Suited spotlights the intimate journey of coming into a new identity, accepting difference, and living bravely in one's own skin, underscoring the important message that one size truly doesn't fit all.
An HBO Production.
---
Related Titles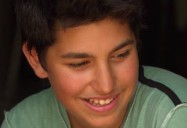 FRONTLINE: Growing up Trans
PBS Video
041805
Just a generation ago, it was adults, not kids, who changed genders. But today, many children are...