Home / Civilization - The Ascent of Woman: A 10,000 Year Story
Civilization - The Ascent of Woman: A 10,000 Year Story

This item is only available for Canadian orders.
This title is a part of the series
The Ascent of Woman: A 10,000 Year Story
Civilization has given humanity extraordinary advances, but what does it look like from the point of view of women? Dr. Amanda Foreman explores how early civilizations dealt with the roles and status of women and asks profound questions about the legacy they left behind. In Anatolia, she visits Catalhöyük, one of the world's earliest settlements. In Mesopotamia, she explores the world's first law codes written to regulate women's status and behavior. Across Europe and the Near East, she uncovers a group of extraordinary women who created their own routes to power in male-dominated worlds. These include Enheduanna, the Ukok Ice Maiden, and Hatshepsut. She also explores the darker legacy of gender inequality in ancient Greece, whose influential ideas on the inferiority of women have cast a long shadow over women's lives across the globe to this day.
---
Related Titles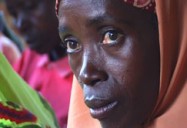 Why Women Count Video Clip Collection: Africa, Middle East,...
Films Media Group
394198
Filmed in 15 countries, this collection of video segments spotlights Malalai Joya, Mukhtar Mai, and...