Home / Extreme Weather: Somerset Flooding
Extreme Weather: Somerset Flooding

This item is only available for Canadian orders.
In the winter of 2013/2014 the UK was hit by a succession of 13 low-pressure weather systems causing extreme flooding across the South West. This program looks at the human and physical causes of the floods and explores the impacts on property and lives through the first hand accounts of local residents and businesses. It also assesses examples of both hard and soft engineering and shows how they are being used to improve resilience to future flood events. Dredging, pumping, tidal barriers and catchment sensitive farming are all considered.
---
Related Titles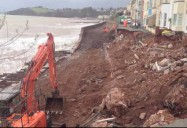 Extreme Weather: Coastal Flooding
Films Media Group
394906
With climate change, extreme storms are becoming ever more frequent. In December 2013, a giant...