Home / Breaking Point: Heroin in America
Breaking Point: Heroin in America

This item is only available for Canadian orders.
In this 20/20 special report, David Muir takes us to New Hampshire and inside the lives of recovering heroin addicts, their families, the health professionals working to help them, and those who do not survive. Aaron Smith struggles to find a treatment center where he can get help and when he does they do not have the drugs to get him through withdrawals. Follow Savanah and Matt as they do their best to remain drug free so they can give their baby girl a good life. See babies born dependent on opiates and children learning how to administer drugs to save someone from a heroin overdose. Hear about the uphill battle facing New Hampshire in the fight against heroin; no community should feel immune.
An ABC News Production.
---
Related Titles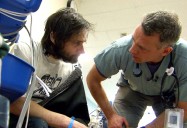 48 Hours: Lessons from Vancouver in Canada's Opioid Crisis: W5
CTV
CTV715
W5's Jon Woodward investigates Canada's growing fentanyl epidemic at ground zero - Vancouver's...