Home / Beverly Billingsly Borrows a Book
Beverly Billingsly Borrows a Book

This item is only available for Canadian orders.
One very special Tuesday, Beverly Billingsly becomes the proud new bearer of Piedmont Public Library card. She chooses her first book with care. Days pass and Beverly spends every waking moment absorbed in Dinosaurs of the Cretaceous Period. In fact, she enjoys the book so much that she forgets to return it by its due date. What will the consequences be? Will Beverly go to jail? Will she be fined a thousand dollars? Will Mrs. Del Rubio, the librarian, ever let Beverly borrow a book again? Find out just how Beverly's problem is solved!
---
Related Titles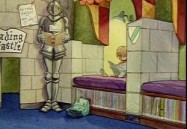 The Boy Who Was Raised by Librarians
Spoken Arts
530218
By Carla Morris and Illustrated by Brad Sneed Introduced by Carla Morris Every day after...