Home / Christmas Tapestry
Christmas Tapestry

This item is only available for Canadian orders.
When a bad leak ruins the sacristy wall in his father's church, Jonathan Jefferson Weeks thinks his family's first Christmas Eve service in Detroit will also be ruined Luckily, he and his father find a beautiful tapestry for sale in a secondhand shop; just the thing to cover the damaged wall and give the church a festive look! But there is more to the tapestry, as they discover when an old Jewish woman, visiting the church, recognizes the lovely old cloth. It is her discovery that leads to a real miracle on this unforgettable Christmas Eve.
This timely tale of love and generosity between people of different religious faiths is a wonderful showcase for Polacco's art. It features snowy holiday scenes and a colorful tapestry that is almost a character in itself.
Includes a special appearance and narration by author/illustrator Patricia Polacco.
Based on the book by Patricia Polacco.
---
Related Titles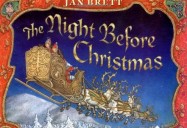 The Night Before Christmas
Spoken Arts
530023
As St. Nick and eight tiny reindeer descend through a brilliant night, the famous Christmas poem...