Home / Chlamydia - The Secret Is Out
Chlamydia - The Secret Is Out

This item is only available for Canadian orders.
PART 1: CHLOE'S DILEMMA 12 min
Chloe is shocked when a boy she was with sends a text that he has Chlamydia. Now she must see a doctor and get tested.
PART 2: KANE'S DILEMMA 12 min
Kane has a secret and can't even tell his best friend. A visit to the doctor helps him deal with his worst fears. Bus he has a hard task ahead.
Kane and Chloe are not unusual or particularly unlucky in getting Chlamydia - the numbers of sexually active people aged 15 to 24 becoming infected with Chlamydia in Australia are high. One of the reasons Chlamydia is so common is that people can have it for a long time without knowing they've got it – so they can pass it on accidentally to their sexual partner. Kane probably had no signs that he had an STI before he passed it on to Chloe. Chloe didn't get any signs or symptoms either. It was only because Kane let her know of the risk that she went for a test, and got treatment. Kane did the right thing by telling both Chloe and his former girlfriend that he had Chlamydia.
Ultimately, the great thing about Kane and Chloe is that they got tested, then treated, avoiding any long term consequences like Pelvic Inflammatory Disease for Chloe, and infertility for both. And, passing it on to anyone else.
Includes a DVD and comprehensive teaching guide that you can download from the DVD.
MORE RESOURCES



Finalist Award – Global Awards, NY FILM FESTIVALS 2008
---
Related Titles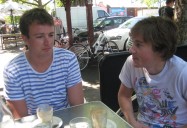 Herpes - The Secret Is Out
Seven Dimensions Pty Ltd
7D0048
This DVD training package comprises a 12 minute video with a dramatised story and doctor segments...