Home / Legacy of War
Legacy of War

This item is only available for Canadian orders.
This video is a powerful depiction of the stages of war, following soldiers from the excitement of the draft to the ravages of battle, from the euphoria of victory to the inevitable aftermath of trauma, grief and remembrance. Featuring original footage from World WarII and stories from veterans still living today, whose legacy is our democracy and freedom.
Bonus Material: Two-minute interview segments with several World War II veterans, including a man who escaped a Japanese prisoner of war camp; a woman who ferried wounded soldiers to safety in Blitz Buggies; a war photographer, now almost blind, who can still describe in detail every image he developed; and, an Indigenous Canadian man who trained as a Wireless Operator/Air Gunner and courageously flew in 30 tours over Germany.
Please click here for the French version of this program.
---
Related Titles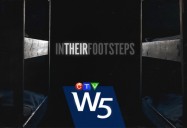 In Their Footsteps: W5
CTV
CTV692
W5's Sandie Rinaldo joins a group of Canadian high school students, chaperones, and Holocaust...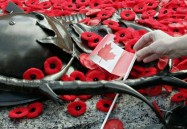 Voices Of Courage
CTV
CTV485
VOICES OF COURAGE, a CTV Remembrance Day special featuring four veterans and their personal...