Home / The Gift of Norooz (Episode 22): 1001 Nights: Season 1
The Gift of Norooz (Episode 22): 1001 Nights: Season 1

This item is only available for Canadian orders.
This title is a part of the series
1001 Nights: Season 1
Catalogue Number:
BBB028
Producer:
Big Bad Boo Studios
Subject:
Animation
,
Arts
,
Character Education
,
Children's Stories
,
Citizenship Education
,
Early Childhood Education
,
Guidance
,
Holidays
,
Social Studies
Language:
English
Grade Level:
PreK - 2, 3 - 5, 6 - 8
Country Of Origin:
Canada
Copyright Year
: 2011
Running Time:
10:23
A poor family learns the true spirit of giving during the Persian New Year.
1001 Nights created by Big Bad Studios in Vancouver, BC is a wonderful series that brings the delightful tales of the famed 1001 Arabian Nights to the screen with hilarity, excitement, and non-stop fast paced action. The collection of stories began as folk tales from the oral traditions of Egypt, Syria, Iraq, India, Persia and Mesopotamia.
These wonderful stories foster vital life skills such as empathy, responsibility, respect as well as teaching about human right and citizenship education. The series has a global audience of over 100 million people and is used by UNICEF throughout Europe and Asia.
---
Related Titles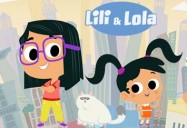 Lili & Lola Series
Big Bad Boo Studios
BBB002
Lili & Lola follows the adventures of two sisters, Lili and Lola, who live in a small apartment in...