Home / Mysteries of Matter: Chemistry and the Elements, from Hennig Brandt to Humphry Davy
Mysteries of Matter: Chemistry and the Elements, from Hennig Brandt to Humphry Davy

This item is only available for Canadian orders.
This title is a part of the series
Elements: Making Sense of Matter
Catalogue Number:
BBC001
Producer:
BBC
Subject:
Science
Language:
English
Grade Level:
9 - 12, Post Secondary, Adult
Country Of Origin:
U.S.
Copyright Year
: 2010
Running Time:
51
Until the 17th century, the building blocks of the natural world were a mystery. Of elements there were believed to be four - air, earth, fire, and water - and the science of chemistry had yet to be born. This program identifies some of the first chemical elements to be discovered by spotlighting the work of Hennig Brandt, Robert Boyle, Henry Cavendish, Joseph Priestly, Antoine Lavoisier, and Humphry Davy. Experiments re-created in the video include Brandt's isolation of phosphorus from urine, Cavendish's isolation of hydrogen from zinc and hydrochloric acid, Lavoisier's isolation of oxygen from mercuric oxide, Davy's isolation of potassium from potash, and more. Johann Becher's Phlogiston Theory - arguably the most colossal error in chemistry history—is discussed as well. Original BBC broadcast title: Mysteries of Matter.
---
Related Titles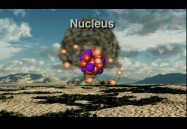 Atoms, Molecules, and Compounds
Films Media Group
393809
All matter in the observable universe from a single blade of grass to a planet in a faraway galaxy...