Home / Plunder and Possession
Plunder and Possession

This item is only available for Canadian orders.
This title is a part of the series
Mapping the World
Catalogue Number:
BBC020
Producer:
BBC
Subject:
Geography
,
History
,
Science
,
World History
Language:
English
Grade Level:
9 - 12, Post Secondary, Adult
Country Of Origin:
U.S.
Copyright Year
: 2010
Running Time:
50
Sparking awareness of distant lands, maps have likewise tempted the ambitious to pillage and conquer through the centuries. This program examines cartography's role in a disturbing dynamic - that which spans the urge to discover for discovery's sake and the relentless drive to extend power, reap faraway resources, and satisfy greed. Profiling the father of geography, Claudius Ptolemy, and his ideas for transferring spherical configurations to a flat surface, the film revisits the voyages of Christopher Columbus, Amerigo Vespucci, and Sir Walter Raleigh - all of whom served as instruments of political and economic domination as well as more scholarly concerns. The theme is further developed through accounts of the Dutch East India Company as well as today's so-called "Cold Rush" - the race to exploit Arctic oil and gas reserves.
A BBC Production.
---
Related Titles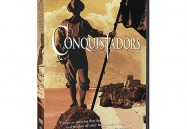 Michael Wood: Conquistadors
PBS Video
040421
ALL THE WORLD IS HUMAN: Alvar Nunez Cabeza de Vaca arrived in Florida in 1528 to explore and...