Home / How Earth Made Us: The Untold Story of History
How Earth Made Us: The Untold Story of History

This item is only available for Canadian orders.
Catalogue Number:
BBC021
Producer:
BBC
Subject:
Geography
,
History
,
Science
Language:
English
Grade Level:
9 - 12, Post Secondary, Adult
Country Of Origin:
U.S.
Copyright Year
: 2010
History is analyzed, for the most part, in terms of human actions. And yet our natural environment has shaped civilization since the dawn of time. What happens when we scale down our own importance and study history from the perspective of nature? This five-part series reveals the powerful influence of geology, geography, and climate on humanity's development. With passionate storytelling and extraordinary camerawork, each episode offers a fresh, original take on the growth, evolution, and ongoing progression of Earth's peoples and cultures—from the birth of agriculture to the industrial revolution and beyond. A BBC/National Geographic-U.S. Co-production in Association with ZDF.
5-part series, 50 minutes each.
---
Related Titles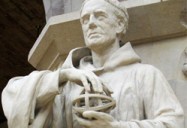 The History of Science
BBC
BBC004
For 3,000 years, humans have wrestled with the great questions of existence. This fascinating...