Home / Alaska: Arctic, with Bruce Parry
Alaska: Arctic, with Bruce Parry

This item is only available for Canadian orders.
This title is a part of the series
Arctic, with Bruce Parry
Bruce travels to Alaska, America's last great wilderness, where modern-day pioneers are harvesting the vast natural wealth of the seas. Bruce learns the ropes on-board a salmon-fishing boat, and dives to the bottom of the Bering Sea to look for gold. In the far north Bruce witnesses the annual whale hunt of the Inupiak people whose ancient tradition is now at odds with the modern world and questions what is more important: the life of a whale or the death of a culture?
A BBC Production.
---
Related Titles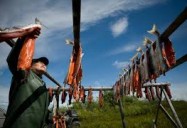 FRONTLINE: Alaska Gold: A War of Resources: The Fish or the Mine?
PBS Video
041595
The Bristol Bay region of southwest Alaska is home to the last great wild Sockeye salmon fishery in...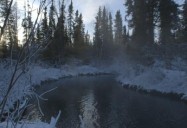 Liard River Hot Springs Provincial Park: A Park For All Seasons...
Blue Ant Media
BAM025
A popular stopover for people traveling the Alaskan Highway, this remote park in Northern BC is...