Home / Do You See What I See? The Science of Color Perception
Do You See What I See? The Science of Color Perception

This item is only available for Canadian orders.
Catalogue Number:
BBC049
Producer:
BBC
Subject:
Science
Language:
English
Grade Level:
Post Secondary, Adult
Country Of Origin:
U.S.
Copyright Year
: 2011
Running Time:
50
Closed Captions:
Yes
When a movie hero leaps into a taxi and shouts, "Follow that blue car!" he takes the driver's understanding of color for granted. But, physiologically speaking, can we be sure that the hues we perceive are the same? How do you actually describe them? To what degree are they created in our brains? This program explores what color really means to us, with expertise drawn from the realms of neuroscience, evolutionary biology, and art. Shedding light on the role of color in the animal world and how it influences moods and reactions, the film features brain researcher Beau Lotto, who conducts a series of experiments to prove that perception is key. Meanwhile, color-blind artist Meghan Simms prepares to undergo gene therapy in the hope of improving her response to chromatic stimuli. A provocative and engaging report.
Contains brief nudity.
A BBC Production.
---
Related Titles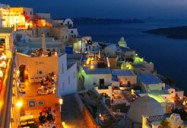 Shedding Light on Color
Films Media Group
394495
Color adds beauty to our lives and helps us express our deepest feelings, but what exactly is it...