Home / Baseball (Kinetic Chain): Sports Lab Series
Baseball (Kinetic Chain): Sports Lab Series

This item is only available for Canadian orders.
This title is a part of the series
Sports Lab Series
Dr. Heather discovers that it is a kinetic chain that gives guest pro baseball player Bryce the power to knock the ball out of the park. Bryce uses his whole body when he swings the bat, building momentum and transferring energy to the ball. Younger brother Porter is inspired to step up to the plate against host Nykeem's pitching.
---
Related Titles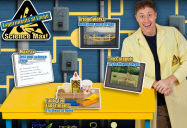 Elastic Energy
Breakthrough Entertainment
BTE081
Phil builds a catapult that hurls pumpkins out of pencils and elastics. Includes a historical...