Home / Figure Skating (Conservation of Angular Momentum - The Momentum of a Spinning Object): Sports Lab Series
Figure Skating (Conservation of Angular Momentum - The Momentum of a Spinning Object): Sports Lab Series

This item is only available for Canadian orders.
This title is a part of the series
Sports Lab Series
Giuliana, a budding young skater, is working on her double toe jump. Dr. Heather explains that angular momentum is the speed of a spinning object, like a top or a planet. Pro Bryce Davison demonstrates how he gets lift from using the picks on his skates, and how he maximizes his angular momentum once in the air by keeping his arms close to his chest. The Dutch first strapped steel skates to their boots to skate in the 14th century, and by 1908, figure skating was an Olympic sport.
---
Related Titles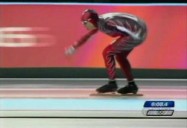 Olympic Gold: W5
CTV
CTV329
Cindy Klassen is the fastest woman on skates. Renowned for her explosive speed, strength and...