Home / Basketball (The Science of Arcs): Sports Lab Series
Basketball (The Science of Arcs): Sports Lab Series

This item is only available for Canadian orders.
This title is a part of the series
Sports Lab Series
Young basketball star Ahriahna joins Nykeem in the gym and learns that the air under pressure in a basketball is what makes it bounce, and how gravity and force work together for successful shots. Guest pro Myck gives them pointers on free throws and dribbling while Dr. Heather explains how arc in a shot helps sink the shot. Also includes the history of basketball and information about how sweating helps us when we exert energy.
---
Related Titles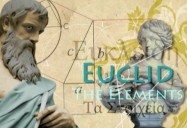 Euclid: The Elements!
Film Ideas
FI0042
Not much is known about Euclid who was born around 300 BC somewhere in Greece.  At the same time...