Home / Snowboarding (Torque): Sports Lab Series
Snowboarding (Torque): Sports Lab Series

This item is only available for Canadian orders.
This title is a part of the series
Sports Lab Series
William is a young slope style snowboarder training to tackle a 360 jump. Dr. Heather explains how torque is pivotal to William's success and guest pro Coulton demonstrates how he gets his torque by swinging his arms. Torque is the force that causes an object to rotate around an axis. it converts linear momentum (when an object is moving in a straight direction) to angular momentum (when an object spins). We also learn how crystals of ice form to make snow, and how snowboarding has roots in BMX and skateboarding sports.
---
Related Titles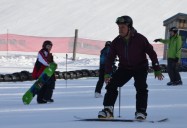 Snowboarding (Episode 8): Warrior Games
Kwassen Productions Inc.
810007
Host Steve Sxwithul'txw takes on one of his biggest challenges when he visits Whistler, BC and...