Home / Crow Trouble: The Mooh Brothers
Crow Trouble: The Mooh Brothers

This item is only available for Canadian orders.
This title is a part of the series
The Mooh Brothers (Season One)
Two trouble-making crows, Roscoe and Bosco, arrive at the Mooh Farm in the middle of the night. They wake up Haley the Rooster, convincing him that it's morning so that he begins to cock-a-doodle-doo. This wakes up the Mooh Brothers, who start work far too early. The Crows frighten the skittish Conley, cause Lucie to fall in the garbage and throw the entire farm into chaos. Barton and Wilton confront the Crows, who promise to behave if they can stay on the Farm.
---
Related Titles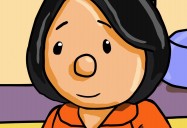 The Birdhouse/Lost and Found: Louis Says Series (Episode 5)
Louis Says Productions Inc.
LS0005
Episode 5A: The Birdhouse - When Randy arrives at Louis' house, he's given the task of the day...