Home / Halloween Playlist
Halloween Playlist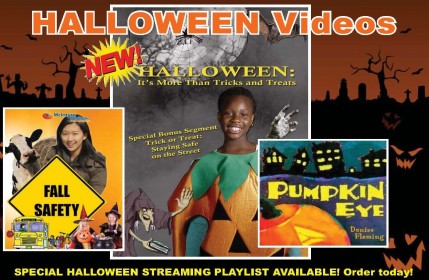 Catalogue Number:
MCI709PL
Producer:
McIntyre Media Inc.
Subject:
Canadian History
,
Canadian Social Studies
,
History
,
Holidays
,
Language Arts
,
Music
,
Religious Studies
,
Safety
,
Science
,
Social Sciences
,
Social Studies
Language:
English
Country Of Origin:
Canada
Children love Halloween, but it's more than just going door-to-door collecting treats. Teach students about the history and science of Halloween in our Canadian production, Halloween: It's More Than Tricks and Treats. Your host Sena and her friends take students on a slighly eerie adventure where they'll learn about bats, black cats, witches, owls and Jack the Miser. You get a bonus Safety segment as well. In Fall Safety, your host Maggie examines school bus safety, schoolyard safety, trick-or-treating safety and farm safety. Your JK-Grade 2 students will love Pumpkin Eye, a Halloween story with just the right amount of spookiness by award-winning author Denise Fleming. Learn to throw a "spooky" Halloween party in Halloween from our Holiday Makeover series and relive a classic story in The Legend of Sleepy Hollow.
The programs included in this Playlist are:
Halloween: It's More Than Tricks and Treats (1-6)
Halloween: Holiday Makeover Series (9-Post Sec)
Haunted House: Miaomiao Series (PreK-2)
Inside Wicca: A Look at the Truth Behind the Word 'Witch' (11-Post Sec)

Pumpkin Eye (K-3)
Fall Safety (K-6)
Creepy Crawlers: Strange Creatures Series (6-Post Sec)
Giant Creepy Crawlers: Strange Creatures Series (6-Post Sec)
The Biggest Pumpkin: Miaomiao Series (PreK-2)
The Legend of Sleepy Hollow (5-12)
The Mystery of Behind the Mask: Mystery Files (Season 1) (3-8)
A Tomb in High Park: Canadiana Shorts (3 - 12) Segment is 3:24
Also includes 5 bonus clips from the Howdytoons Video Clip Collection:
Five Little Pumpkins

- These pumpkins are ready for some spooky fun! A lively rhyming pattern song tells the story of their antics on Halloween night. (1:36)

I'm A Crazy Witch

- "I'm a Crazy Witch, stirring up my brew; what will you give me to put in my stew?" A great cumulative pattern song to get you in the mood for Halloween. (2:00)

I'm Dressing up for Halloween

- Halloween is the spookiest night of the year. Five animated characters each choose very different costumes. (2:10)

It's Hallowe'en!

- Get ready for a scary time trick-or-treating with this spooky Halloween song by the Rock'n'Rainbow band. Artful animation shows what the characters see as they walk down the street and visit houses for Trick or Treat. (2:00)


Walking in the Night

- Halloween could be a scary time of year to go walking in the night! Bats and owls, lone wolf howls, and a witch's black cat might send you running back to your house. But you can pretend to be a ghost and scare the things you meet on your walk instead. (2:30)

---
Related Titles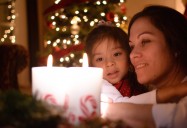 A Season of Celebrations Playlist
MCI770PL
Click on the titles below to view the programs included in this Playlist: Chinese New Year Moon...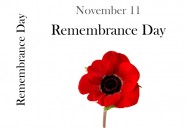 Remembrance Day Playlist
MCI700PL
A completely Canadian-produced selection of titles suitable for your Grade 3-12 students. This...