Home / Pursuing Happiness
Pursuing Happiness

This item is only available for Canadian orders.
Join the journey and discover the secrets to living a truly happy life as two film-makers travel the country in search of the happiest people in America. Be ready to laugh and cry as they uncover real-life heartfelt stories from the most compelling characters. A young woman battling stage 4 colon cancer, a single dad who lost both of his arms, an impoverished painter single-handedly revitalizing his condemned neighborhood, and two vigilante artists fighting to save their bankrupt city. These are among the happiest people in America. Pursuing Happiness compares and contrasts these amazing stories with findings and teachings of some of the leading researchers on the subject of happiness.
Featured on the Today Show ​with Maria Shriver.
Outstanding Achievement Award - Sacramento International Film Festival

Official Selection - Newport Beach Film Festival
---
Related Titles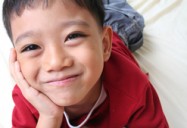 All About Happiness
Films Media Group
393707
Trying to find happiness is the search of a lifetime, and in this multi-segment ABC News program, a...