Home / Mixed Salad/Mrs. Charles is a Superhero: Louis Says Season 2 (Episode 1)
Mixed Salad/Mrs. Charles is a Superhero: Louis Says Season 2 (Episode 1)
This item is only available for Canadian orders.
This title is a part of the series
Louis Says: Season 2
Episode 1A: Randy devises a plan to get free vegetables.
Episode 1B: Randy and Katie believe that they have to protect Mrs. Charles' secret identity.
Related Titles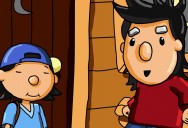 The Big Pie Sale/Colours of the Quilt: Louis Says Series (Episode 3)
Episode 3A: The Big Pie Sale - Louis tells Randy that he has to deliver kuhkithuw (all) the blueberries to Mrs. Charles. Randy picks up only one pail. When...
View This Title
Louis Says Productions Inc.
LS0003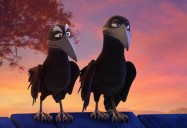 In A Jam: The Mooh Brothers
The Mooh Brothers pick blueberries. Wilton asks Conley to help him make jam, but scares Conley when he lights a match. Roscoe and Bosco try to filch berries...
View This Title
Breakthrough Entertainment
BTE206