Home / The Five Senses: Sight and Sound
The Five Senses: Sight and Sound
This title is a part of the series
The Five Senses Series
Guide Available:
MCI065.pdf
Program 1: Introduction
A brief introduction to the five senses – what they are, what sense organs are used, how our senses help us gather information and help protect us.
Program 2: Sight
Our eyes allow us to see the world around us. They are so important that we must learn to protect them from the sun. Our eyes are like a camera. In this program, Nadia explains how our eyes work – how they allow us to see people, places, things, colour and movement. Some people have trouble seeing. In this case, sometimes we need to wear glasses. Other people cannot see at all. These people are blind and use the Braille Alphabet to read. Terminology used includes: eyes, pupil, retina, optic nerve, eyelashes, eyelids, optician, optometrist, blindness, UV rays.
Program 3: Hearing
Nadia visits a music store where we hear the strumming of a guitar. Imagine a world where you couldn't hear. Some people can't and this is called deafness. Those of us who are lucky enough to be able to hear must learn to take care of our ears. They are very important in collecting sounds, processing them and sending sound signals to our brains. Terminology used includes: ears, inner ear, middle ear,outer ear, sound waves, vibration, eardrum, cochlea, hearing aid, deafness, audiologist.
Related Titles
Exploring Sound
Almost every second of the day you are surrounded by sounds. Through easy-to-understand examples, this program helps students grasp how sounds are formed...
View This Title
Visual Learning Systems
110271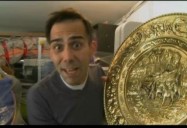 Eco - Folk: Ep. 309: Planet Echo (Season 3)
In this episode we check out the environmental initiatives of the Winnipeg Folk Festival. ADVENTURE: Chuck and Andy head to the Winnipeg Folk Festival...
View This Title
Positive Productions Inc. and Media RendezVous Inc.
PE0309