Home / Doing Morning Meeting
Doing Morning Meeting

This item is only available for Canadian orders.
Morning Meeting is a simple and powerful tool for improving classroom climate. In K - 8 classrooms nationwide, students and teachers begin each day with this daily routine in which classmates gather in a circle to greet one another, listen and respond to one another's news, practice academic and social skills, and look forward to the events in the day ahead.


In this video, you'll see Morning Meetings in action in two classrooms, a first grade and a fifth grade at Kensington Avenue School in Springfield, Massachusetts. The video has four segments, each devoted to one component of Morning Meeting:
Greeting
Sharing
Group Activity
News and Announcements
You'll see teachers Leslie Cirone and Maureen Russell as they use daily Morning Meetings to foster an atmosphere of trust and respect, an atmosphere where children feel safe enough to take the risks necessary for learning. You'll also see the many ways in which Morning Meetings can be used to give students daily practice in important social and academic skills. Scenes from the classrooms are interwoven with teachers reflecting on their practice and offering ideas for making Morning Meetings successful. This video is intended for staff development, as well as for providing an introduction to Morning Meeting for teachers, families, and administrators. The accompanying viewing guide offers suggestions for using the video to stimulate reflection and discussion.
---
Related Titles
The Daily 5 in Kindergarten (Joan Moser)
Choice Literacy
CL0019
Join Joan Moser of "The Sisters" for a visit to her lively kindergarten classroom. You'll see Joan...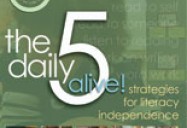 The Daily 5 Alive: Strategies for Literacy Independence
Stenhouse Publishers
000134
It's a common dilemma: Teachers need time to work in one-on-one conferences and in small groups...