Home / Clothes at Work: Decoding Office Dress Codes
Clothes at Work: Decoding Office Dress Codes

This item is only available for Canadian orders.
Like it or not, on the job, appearance matters! But what's the right look for YOUR workplace? Or your NEXT one? Learn about the four levels of business dress, tips on accessories and grooming, and how to build an affordable wardrobe.
MORE RESOURCES



---
Related Titles
Sensible Steps To A Stylish Wardrobe
Learning Seed
200273
Building a stylish wardrobe doesn't have to cost a fortune. Learn how to create and stick to a...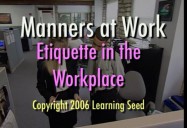 Manners at Work: Etiquette in the Workplace (Revised)
Learning Seed
200179
One of our most popular Learning Seed career titles is now completely revised and for the 21st...