Home / Qu'Appelle Valley Mule Deer: Dickie Yuzicapi: Untamed Gourmet Series (Season 1)
Qu'Appelle Valley Mule Deer: Dickie Yuzicapi: Untamed Gourmet Series (Season 1)
This title is a part of the series
Untamed Gourmet Series (Season 1)
"Sioux Chef," Dickie Yuzicapi, creates modern variations on traditional Aboriginal cooking. In summer and fall trips through Saskatchewan's Qu'Appelle Valley, he hunts a mule deer and rabbit. He combines these with gathered sage, chokecherries, and rosehips, which he serves to a few local friends.
---
Related Titles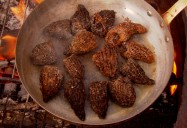 Northwest Territories Caribou: Pierre LePage: Untamed Gourmet...
291 Film Company
291010
Chef Pierre LePage has a busy restaurant and catering business in Yellowknife.  He forages for...