Home / Newfoundland Moose: Jeremy Charles: Untamed Gourmet Series (Season 1)
Newfoundland Moose: Jeremy Charles: Untamed Gourmet Series (Season 1)
This title is a part of the series
Untamed Gourmet Series (Season 1)
Newfoundland's chef Jeremy Charles enjoys a hunt with family friends near his grandfather's hometown. There, they kill a moose, a partridge, and gather wild berries. The meal is served for his friends - fishermen who sustain themselves on little more than local wild and gardened ingredients.
---
Related Titles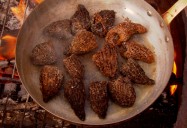 Northwest Territories Caribou: Pierre LePage: Untamed Gourmet...
291 Film Company
291010
Chef Pierre LePage has a busy restaurant and catering business in Yellowknife.  He forages for...