Home / Wheaton Valley with Keith Wolfe Smarch: Landscape as Muse (Season 2)
Wheaton Valley with Keith Wolfe Smarch: Landscape as Muse (Season 2)
This title is a part of the series
Landscape as Muse (Season 2)
Wheaton Valley, Yukon Territory is an area of sparse beauty, abundant wildlife, and archaeological significance. This remote mountain landscape amidst the clouds is also the ancestral hunting ground of the Tlingit people. Tlingit carver Keith Wolfe Smarch shares the story of his artistic journey and the traditions of his people as he creates an intricate wooden spoon.
---
Related Titles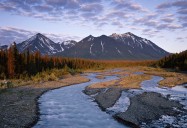 Yukon Western Frontier: Canada Over the Edge (Season 4)
Blue Ant Media
BAM194
Long Ago People's Place: Southern Tutchone Culture Harold Johnson operates of the Crow Clan's...