Home / The Abenaki – People of the Dawn: The Water of Life Series
The Abenaki – People of the Dawn: The Water of Life Series

This item is only available for Canadian orders.
This title is a part of the series
The Water of Life Series
Catalogue Number:
300151
Producer:
MacLeod 9 Productions
Producing Agencies:
MacLeod 9 Productions
Subject:
Canadian History
,
Canadian Social Studies
,
Canadian World Studies
,
First Nations Studies
,
Geography
,
History
,
Indigenous Peoples
,
Social Studies
Language:
English
Grade Level:
3 - 5, 6 - 8, 9 - 12, Post Secondary
Country Of Origin:
Canada
Copyright Year
: 2013
Running Time:
16:23
Closed Captions:
Yes
Identity is often revealed in the most perilous situations. In The Abenaki - People of the Dawn, it is Joe Obomsawin's intimate knowledge of the back roads and hidden trails on the frontiers of Quebec and New England that narrowly saves a group of bootleggers from capture. The escape also provides the impetus for his character's powerful and deeply personal retelling of the history of his people. Huddled around a fire in a remote cabin, Obomsawin unfolds the tragic, improbable and inspiring story of the Abenaki nation, reduced from 50,000 to some 1,500 over a few hundred years of colonial settlement. A collaboration between author and storyteller Mike Burns and director G. Scott MacLeod as part of the animated series The Water of Life, The Abenaki - People of the Dawn fuses traditional pencil animation with new digital media to tell the harrowing tale of a people's struggle for survival.
Graphic novel version available: Product # 300151GN
For the graphic novel version in ON-Core and CAN-Core click on Teacher Resources below the description.
This program is also available in French.
"…very beautiful. I think it should be seen and I appreciate all the work that's been done and the animation is fantastic." - Alanis Obomsawin OC, Celebrated Canadian documentarian of Abenaki descent.
---
Related Titles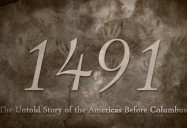 1491: The Untold Story of the Americas Before Columbus
1491 Productions Inc.
149100
"The Western Hemisphere before 1492... was a thriving, stunningly diverse place, a tumult of...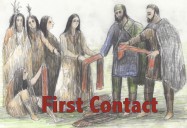 First Contact (Beothuk)
MacLeod 9 Productions
300155
From the west, a Beothuk hunting party. From the east, an expedition of Norse Greenlanders looking...