Home / Program Activities: Fostering the Development of the School Age Child
Program Activities: Fostering the Development of the School Age Child

This item is only available for Canadian orders.
Catalogue Number:
530138
ISBN Number:
1-55740-327-9
Producer:
Magna Systems
Subject:
Professional Development
Language:
English
Grade Level:
Educators
Country Of Origin:
U.S.
Copyright Year
: 2005
Running Time:
30
The best after school programs offer a well-rounded variety of endeavors designed to address the wide range of children's needs. Children are best served when they can pursue their interests while engaging in educational (and fun!) pastimes with their peers. This course takes a look at a variety of activities which come naturally to children and encourage them to grow and develop as they play. It suggests ways in which children can learn to appreciate and respect the cultural and individual differences among one another while also recognizing what is unique and wonderful about themselves.

Explore the ways in which teachers can make the most of visual and performing arts, collaborative projects, reading, journal writing, and other creative endeavors, and learn how these activities foster students' problem solving, listening, comprehension and writing skills. Viewers also learn how to employ special interest clubs, and competitive and non-competitive sports such as swimming and dance to help kids grow and develop.
---
Related Titles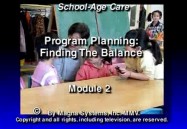 Program Planning: Finding the Balance
Magna Systems
530136
The National After School Association's NSACA Accreditation standards give educators a solid...