Home / Switch on Everyone: Switch On Series
Switch on Everyone: Switch On Series

This item is only available for Canadian orders.
This title is a part of the series
Switch On Series
This program provides the stimulus for everyone to re-evaluate their own thinking patterns and behaviors. It will help them recognize negative thinking so they can then turn it around. This leads to improved confidence, persistence and more effective communication skills. Managers need to lead by example and this program unearths the negative thinking that can lead to disempowerment.

SWITCH ON EVERYONE will encourage viewers to recognize:
• The power of success starts with the way you think.
• Positive messages and affirmations make us feel good, help us communicate effectively and achieve results.
• Negative thinking and negative messages hold us back, keep us stuck in the past and create conflict and poor motivation
SWITCH ON EVERYONE is aimed at helping everyone at all levels to think positively and change negative thoughts into positive thoughts and actions. It is ideal for attitudinal and customer service training and for developing communication skills. It can be used for motivating staff and team building, as well as developing supervisors and managers. It can be used in short meetings, at conferences, in workshops and for one on one motivational coaching or self-development online.

The SWITCH ON EVERYONE program has 5 segments:
Segment 1 provides individual attitudes of staff to work
Segment 2 covers team attitudes
Segment 3 offers supervisor attitudes
Segment 4 explores management attitudes
Segment 5 shows how everyone can do better
GUIDE



---
Related Titles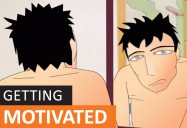 Getting Motivated Series
Seven Dimensions Pty Ltd
7D0010
An animated series developed by psychologist Eve Ash to help people get motivated. Learn how to...