Home / Switch on Respect: Switch On Series
Switch on Respect: Switch On Series

This item is only available for Canadian orders.
This title is a part of the series
Switch On Series
SWITCH ON RESPECT is aimed at helping everyone at all levels to maintain a respectful non-judgmental attitude.
It is ideal for attitudinal, discrimination and diversity training, bullying and harassment prevention programs, conflict resolution, telephone and service training, and for developing effective communication skills. It can be used for induction, team building and management development and counseling training.
SWITCH ON RESPECT is ideal for training seminars, short meetings, conferences, workshops and for one on one motivational coaching or self-development online.
The SWITCH ON RESPECT program has four segments:
Segment 1 covers general dislikes, prejudices and racism and the need to be open and learn
Segment 2 explores overcoming judgmental and uncaring reactions
Segment 3 helps move beyond false beliefs, assumptions and ignorance
Segment 4 covers skills and actions for changing and forgiving.
Managers and trainers can use the content and activity sheets to help their people 'audit' their negative messages and develop and sustain positive messages and open non judgmental attitudes.
GUIDE



---
Related Titles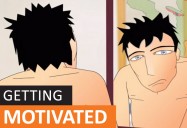 Getting Motivated Series
Seven Dimensions Pty Ltd
7D0010
An animated series developed by psychologist Eve Ash to help people get motivated. Learn how to...